With AgriScot 2018 just around the corner we thought we'd take a look at what's in-store for this year's event and take a look back at how we got on last year.
What to expect?

AgriScot is one of the leading business events within UK agriculture. It appeals to all sectors of the agricultural industry, from farmer to trader alike. The main goal of AgriScot is to give visitors an opportunity to see products, to do business and to meet and talk to others in the industry. Likewise farmers seeking advice and information necessary for their farming businesses will receive the best commercial and technical advice there is on offer at AgriScot.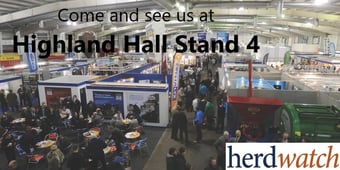 Come and see Herdwatch at Highland Hall Stand 4.
AgriScot will take place on Wednesday 21st November in the Royal Highland Centre, Ingliston, Edinburgh . The premier UK farm business event will house over 240 trade stands and exhibitors. Visitors will have access to a wide variety of products, services and advice covering every aspect of agriculture.There will also be competitions for aspiring young agricultural professionals, business seminars and technical demonstrations.
AgriScot now surrounds four exhibition Halls , among which is the Lowland Hall. Here is home to the largest winter display of machinery in the UK and the latest developments in farm hardware and technology.
Herdwatch can be found in the Highland Hall at stand 4. The Highland Hall hosts a wide variety of products, services and the latest in agriculture technologies. It's undisputed that AgriScot is the place to be if you are in the business of farming.
AgriScot Product Innovation Award
The AgriScot Product Innovation Award is designed to recognise and reward commercial potential, creativity and innovation. The AgriScot Product Innovation Award looks at the potential business benefit delivered by entrants, which rewards and encourages forward-thinking new products.
The winner of which must demonstrate ingenuity and uniqueness as well as business potential. Like wise the winner should adhere to emerging or existing demand for new or developed products, as well as pushing technological or mechanical boundaries.
2017 Product Innovation Award Winner- Herdwatch
Last year , Herdwatch beat nine other entries to be crowned the overall winner of the Product Innovation Award at AgriScot.
The judges recognised our easy to use farm management app which records essential livestock and allows farmers to easily record data as a worthy winner of the Product Innovation Award.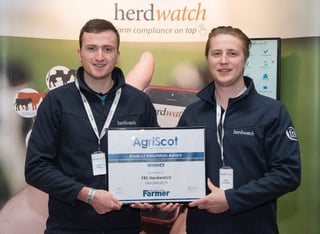 Herdwatch Team members, Gearoid Kenny and Dan Brennan receiving the Product innovation award.
Herdwatch can work with smartphones, tablets or PC, anytime, anywhere. Even without an internet connectivity it still allows farmers to easily record data. Herdwatch then adds value to these records by combining them with management information already in the system, saving the average farmer two hours per week.
In addition Herdwatch can work on duplicate devices under the same licence number. Herdwatch is BCMS (British Cattle Movement Service) and Red Tractor compliant and enables the recording of animal welfare and traceability events in order to maintain compliance with relevant legislation.
At Herdwatch we are passionate about making life easier for farmers.
Try the Herdwatch app for free
Getting set up on Herdwatch has never been easier, you can now simply download the app and sign up to the FREE PLAN.
The new Free Plan allows you to:
Download your Herd from APHIS (Northern Ireland), BCMS (England, Scotland, Wales) or Agfood (Ireland ROI)

Record 5 calf registrations

Record your medicine purchases

Record Heat detection and general tasks, and more!