Over 60,000 people from all over the country gathered in Tullamore, Co. Offaly, on Sunday, August 11th, for the Tullamore Show. With over 700 trade stands, 6 catering villages and 3 live entertainment areas the show had something for everyone.
The National Inventions Arena at Tullamore Show
Farmers with an innovative streak showcased their farming inventions and farm adaptions as part of the Tullamore Show's National Inventions Competition. With six different classes varying from Inventions in Agriculture, Horticulture and Forestry to labour saving devices the quantity and indeed quality of inventions was set very high.
"The quality of the competition has really been kicked up a gear this year. With over 20 entries, ranging from really technical stuff to more practical stuff that helps solve a simple issue on the farm. Inventions is also innovation; so it's about making really clever improvements weather that's adding an algorithm in or a piece of software that just simplifies how you do things.
Agventions 1st Runner Up Robert Davis talked us through his winning meal scoop.
"You just drive the scoop into meal or ration or whatever it is, you put your foot on the base pull down the cross bar and it just funnels the feed into the bag.
Tullamore show Chairman and head organiser of the National Inventions Competition, Rodney Cox, commented on the great crowds that are drawn in by the competition. He anticipates that the inventions for next year are only getting bigger and better.
"The competition is like a magnet it just draws in so many people.
Herdwatch Agventions Winner 2019
Jack Hennessy was crowned the overall winner of the Herdwatch Agventions competition in association with Tullamore Show. The 21 year old suckler and sheep from from Ballyfoyle Co. Kilkenny created a removable bucket grab which can be easily attached to any tractor. Which in turn saves farmers money.
"This is a grab that can be easily attached and removed from a general purpose bucket. This way the farmer can avoid buying an expensive bucket grab. It also makes the bucket much more versatile around the yard."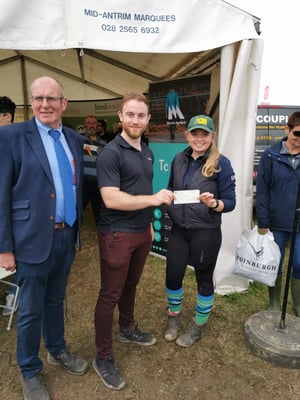 The winner of the 2nd annual Herdwatch Agventions competition Jack Henessy collected his €250 cash prize (via his girlfriend Emma) from Herdwatch, Head of Product, James Greevy and Tullamore Show Chairman, Rodney Cox.
Get Started with Herdwatch
Join over 10,000 happy farmers saving time on farm paperwork and managing their farms more efficiently for FREE.
Herdwatch is fully compliant with Bord Bia and EU quality assurance standards and allows farmers to register calves and manage cattle movements on their phone. It is fully integrated with ICBF so farmers can see their breeding, milk records and EBI/Eurostar information on Herdwatch.
The Free-Plan allows farmers to:
Download their Herd from APHIS (NI), BCMS (UK) or Agfood (IRL)

Record 10 calf registrations

Record their medicine purchases

Record Heat detection and general tasks