We've got the all you need to know on the BEEP scheme and we are enabling weight recording as a free feature on Herdwatch to all suckler farmers for the duration of the scheme.
What is the BEEP Scheme?
The Beef Environmental Efficiency Pilot (BEEP) scheme was announced as a beef sector support under Budget 2019 . Through the scheme farmers will receive a payment of up to €40/cow-calf pairing for collecting weight data on cows and calves.
What is the purpose of the BEEP Scheme?
The BEEP scheme is part of an initiative from the Dept. of Agriculture to further increase economic and environmental efficiency of the suckler herd through better quality data on herd performance. BEEP is aimed at improving weaning efficiency of suckler cows by collecting live-weights of their calves before they are weaned.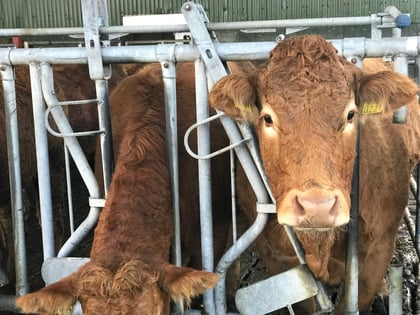 Beef breed animals born between 1 July 2018 and 30 June 2019 are eligible.
Who can apply?
Open to any suckler beef farmers who have one or more beef breed animals born in the herd between 1st July 2018- 30th June 2019. Suitable applicants must commit to completing the mandatory action required within the duration of the Pilot.
When are the application dates?
Apply for BEEP:
The closing date for Applications is the 22nd February 2019.
Farmers can apply through the online portal at www.agfood.ie
Key Requirements:
Animals been weighed are beef bred, born between 1 July 2018 and 30 June 2019 are eligible.
All calves being submitted for weighing must have been born between 1 July 2018 and 30 June 2019.

Unweaned live calf and dam must be weighed on the applicant's holding, individually and on the same day.
Weights must be submitted to the ICBF database within 7 days of animals been weighed.
How to record weights for the BEEP scheme?
There are three options available to farmers for recording the weights of their animals for the BEEP scheme.
A Rental model weighing scales, whereby participants rent scales from an approved field service agent to undertake the BEEP weight recording process. Details of these rental scales will be released over the coming weeks on www.icbf.com

Owned, borrowed or using a third party service providers' scales. This is where a farmer can use their own scales or one belonging to a third party.
Participants using owned, borrowed or using a third party service providers weighing scales will have to pre-register these scales with ICBF as per the T & C's.
FRS Weighing Technician Service - is a nationwide service available to any farmer wishing to comply with the BEEP scheme. An FRS Weighing Technician will come to your farm with a registered scales and complete weighing. All you need to do is submit the weighing results onto the BEEP database within 7 days of the animal being weighed.
Submission of weights:
Weights can be submitted between the 8th March to 1st November 2019. You can enter weights using Herdwatch, ICBF web-page or an official paper will also be available from ICBF.
To help Suckler farmers record weights more easily, we have made the weight recording module FREE to all Suckler farmers for the duration of the BEEP scheme.
Fast Weight Recording and Average Daily Gains at your fingertips
Enjoy easy weight recording with Herdwatch. Simply pick the animal, enter the weight, and click "Save". You will see a summary of the Weight record, including Average Daily Gain.
For the next animal, just type the last few digits of the tag or freeze-brand, enter the weight, click "Save".
Approved by ICBF- Weights sent directly
If you do your own weighing in Herdwatch, your weight records will automatically be sent to ICBF which means you will get the benefit of better reporting from ICBF. Herdwatch is fully approved by ICBF to provide this integration free of charge to our members.
FREE Weight recording on Herdwatch
To celebrate the BEEP scheme we're offering the weight recording feature on Herdwatch for FREE to any Suckler farmer who joins or uses the FREE PLAN.
The Free-Plan will also allow farmers to:
Download their Herd from Agfood (IRL)

Record 5 calf registrations

Record weights for the BEEP scheme

Record their medicine purchases

Record Heat detection and general tasks