We will celebrate 2 million calves registered in the Herdwatch app this February which is another huge milestone since Herdwatch launched in 2012 and would not be possible without you, our wonderful members.
To celebrate this milestone, we will be giving away a Herdwatch bundle including 12 Months Herdwatch Membership plus the Herdwatch gear below to one of our lucky members.
Entry to win this bundle is simple, just record any task in Herdwatch during February & you will be entered into the competition!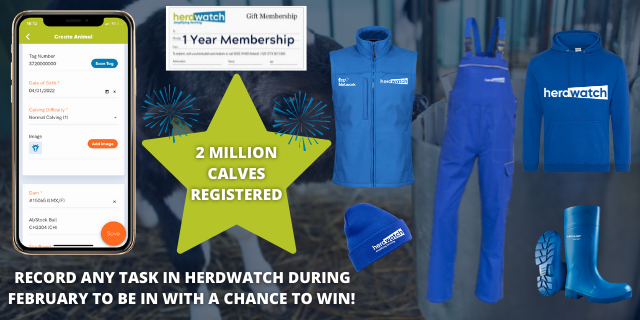 The competition closes on the 28th of February 2022 and is open to all Herdwatch members in the UK & Ireland.
Calf registration in seconds
Over 15,000 farmers across the UK & Ireland have been using the Herdwatch app for their calf registration with over 2 million calves registered in the app saving farmers hours per week on calf registration!
With spring calving about to get into full swing, it could not be easier to register your calves using Herdwatch. As you know, calves must be registered within 27 days of birth, and we're here to help you do this quickly, properly and on time. Follow this tutorial and you'll have your calves registered in seconds:
Tap the

Orange Plus (+) Button
Tap 'Calf' to register a new birth
Select the

Gender of the calf
Select the

Cow

that has calved (Dam)
(If you have breeding records in Herdwatch then you will be shown a list of cows due to calve in the next 2 weeks)


Enter the calf tag number or scan the barcode on the calf tag
You can also record details about the Sire, Calf Weight, etc.
Tap

'Save'

in the top right hand corner.
Confirm the calf details and tap

'Register Calf now'