Today marks the beginning of Farm Safety Week 2017, Monday 24th July – Friday 28th July. For the next five days, a different theme surrounding farm safety will be the topic of discussion. Today highlights Farm Safety Statistics and the rest of the week is as follows:

As today is farm safety statistics day, we at Herdwatch have compiled data from the Health & Safety Authority regarding the most frequent causes of farming fatalities over the past ten years. Our goal is to highlight the importance of being safe at work on the farm.
Farm Safety Statistics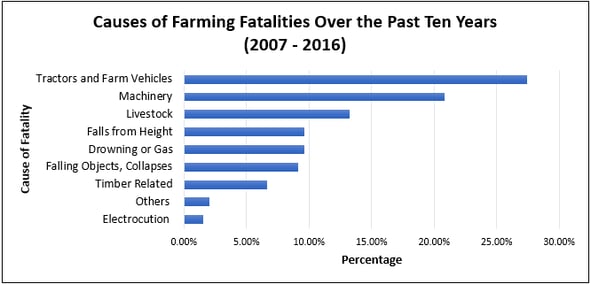 Data Source: Health & Safety Authority 2017
While regulation requires all farmers with more than three employees to complete a 'Safety Statement', all farmers should spend this week reviewing their farm safety standards. Complying with the 'Farm Safety Code of Practice' may be a bit of extra work this week. But use the extra hours that Herdwatch saves you on paperwork to ensure everyone who steps foot on your farm is safe.
To get you started, use the HSA's online risk assessment tool here to fill out the 'Risk Assessment' document of the Farm Safety Code electronically. This will allow you to save and review the document at a later date.
Filling out this document online will help you access your 'Code of Practice Risk Assessment' when you need it. It also helps to keep a record of when you undertake your risk assessments, and reminds you when you need to. Risk assessments are important, and they can prevent you from becoming another farm safety statistic.
To find out more about farm safety statistics, and how to keep you and your loved ones safe on the farm, checkout this farm safety guide from the IFA here.