Full time dairy farmer and Herdwatch member Richard Hiscock, from South Brewham in Somerset, has become a farming sensation on social media platform TikTok with his channel "Milking with Rich". He has had a meteoric rise now reaching almost 100,000 followers and 20 million views to become a very recognisable face among farmers on the social platform.
Richard is a very busy man operating two dairy herds of 350 black and white jersey crosses on Picketts Farm, one Spring calving and one Autumn calving with the help of his herd managers and family. The farm is very much family orientated with Richard enlisting the help of his wife Emma, two young sons Jack and Henry and indeed his brother Tom who also operates his own dairy herd right next door!
Richard has been sharing his day-to-day stories for over a year and explains he only really started to take it seriously in the last couple of months "I started posting videos on TikTok and I suppose after everyone said our cows looked great so I decided I'd start to put a few more videos up and it just took off from there."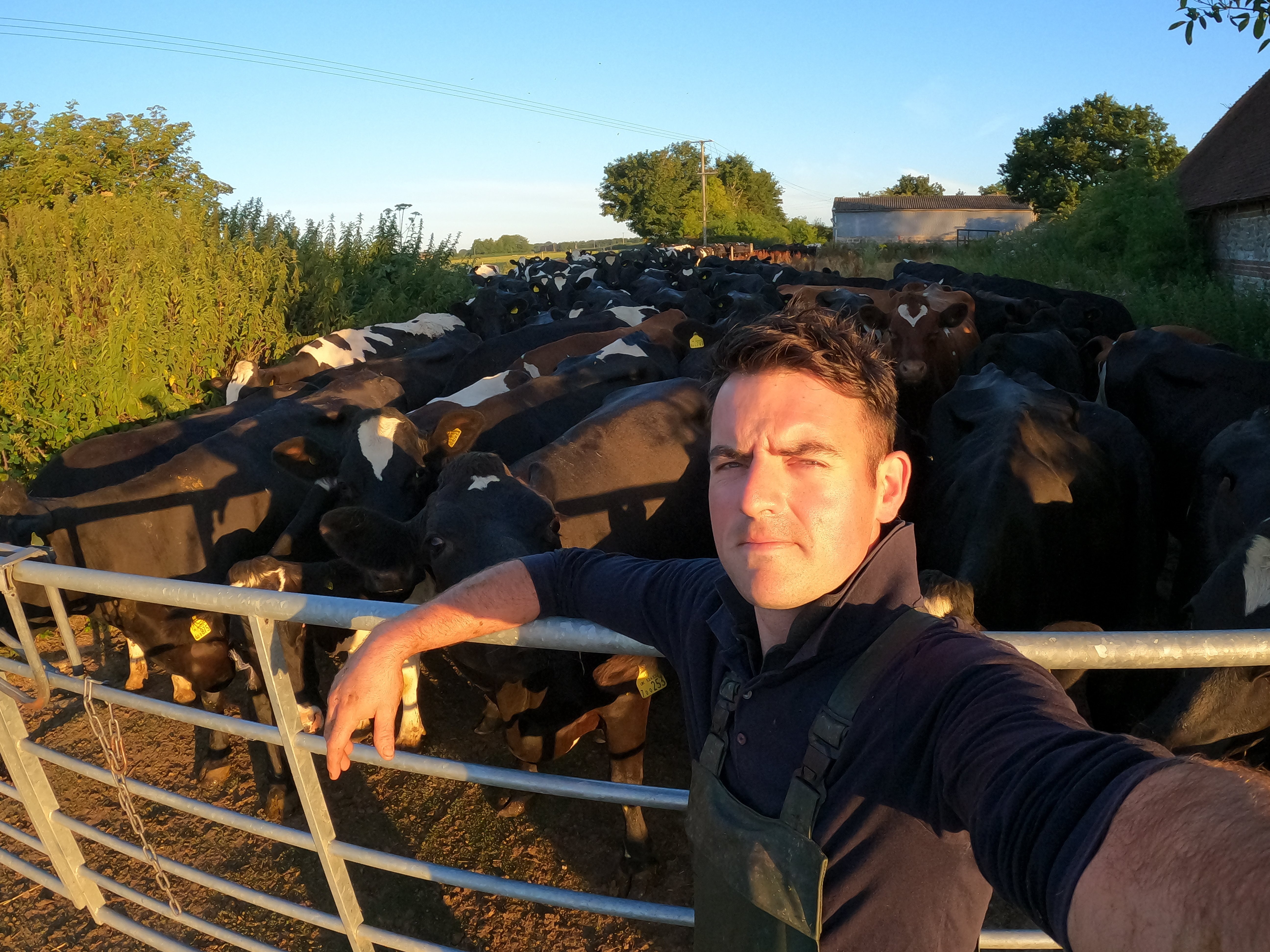 Richard documents the trials and tribulations of farming on his TikTok platform as well as providing some of his own tips he has learnt along the way. Richard explains "I suppose I just put up my daily tasks on the farm and people love to come on and watch, a lot of people take to the comments for a discussion or just to comment on what I am doing, I think TikTok is a lot more powerful than a lot of people think!"
When it comes to managing his farm, Richard sees his key performance indicators as grass utilisation and maintaining a young herd on his farm and advises every farmer to "find out the few things that make your system profitable and really focus on them".
Richard has many practices in place to ensure his herd is operating at the highest level possible. "We recently installed new 24/48 parlours and we have also improved the cow tracks, we are always looking at ways to improve the farm!"
USING HERDWATCH TO MANAGE HIS TWO HERDS EFFICIENTLY
Richard signed up to Herdwatch in May 2020 and has been amazed with how efficient and time saving the app has been for his farm management needs.
"I tried out all the apps on the market and Herdwatch was by far the most efficient, getting signed up was so easy, I was able to do it all by myself on the app!"
"Big icon buttons and simple steps make it a straight forward app and if you have any problems at all using the app or finding data the Herdwatch support team are great, they are on it straight away."
Trying to manage all the key data for such a big operation can seem like a daunting task however Herdwatch has helped streamline everything for Richard and make it seem simple! "I have two holding numbers and its really easy to switch from farm to farm on the app, it saves so much confusion!"
Having multiple people working on the farm, Richard loves the fact that each person can login to the app on their own phone and record as they go ensuring everyone has full visibility on what is going on on the farm. "When it comes to stuff like recording medicines, its great, all the herd managers are on the app on their own phones and they can enter details whilst on the go, nothing gets forgotten about."
Calving time can be a very busy period for all farmers with late nights and early mornings, operating both Spring and Autumn calving herds, Richard identifies the calf registration tool in the app as his favorite feature. "This is the best bit about the app for me because we can do it on site as it happens, no more pen and paper! Also if you have no phone signal it doesn't matter because the app works online and can send it through later!"
Farm inspections have become a much more straightforward task at Picketts farm in recent years. "The inspector is more assured when they know Herdwatch has your back, everything is there all in one place it makes it so much less stressful!"
"Herdwatch has made all our lives easier, more free time, less paperwork, it makes farming simpler! I tell all my mates to chuck the pen and paper in the bin and download Herdwatch, its a 3 minute job!"
Download Herdwatch today
The Herdwatch farm management app links with BCMS(CTS), ScotEID & APHIS to help farmers eliminate farm paperwork and make better decisions, you can also view your Milk Recording data from CIS & NMR.
You too can join Richard and over 17,000 other happy farmers saving time on farm paperwork and making better decisions – to find out more information or download the Herdwatch farm management app, go to www.herdwatch.com or call 02037732763 today.