At Herdwatch our main focus is making farmers lives easier by saving them time and giving them peace of mind on farm compliance.
If your friends could benefit from easy farm management, simply recommend Herdwatch to them. If they download our app for FREE and sync their herd, we will give both you and your friend a FREE ticket for the National Ploughing Championships. It's a Win Win!
See below for full T&C's.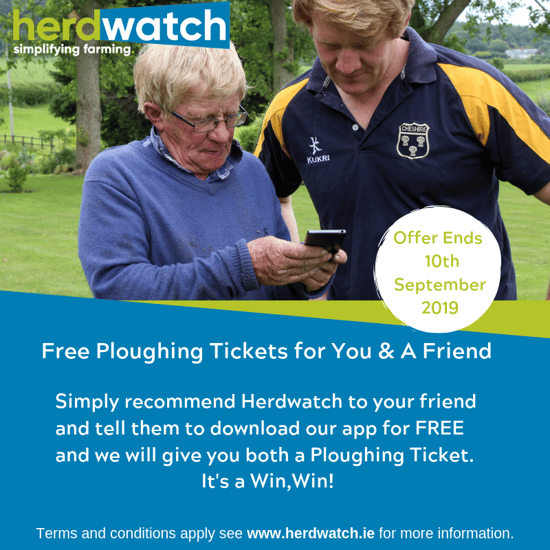 What are some of the key benefits of Herdwatch?
Saves farmers on average 3 hours a week
Ensures peace of mind
Full quality assurance and compliance
Fully mobile - works offline without an internet connection
24/7 access to vital herd information
Safe and secure data stored in the cloud
Eliminates duplicate recording
Extremely user friendly
Easily generate reports
What are some of the key features of Herdwatch?
On the spot Calf Registration
Paperless Animal Movements
Farm Medicine Scanner - simply scan animal remedies
Full Breeding Management - record serves, scans , heat detection etc.
Directly Order Replacement Tags
Easily record Feed Purchases
Live link with Agfood/CTS/APHIS
Generate Body Condition Score
View Weaning Records
View Milk Records
Optional Link to ICBF
Terms & Conditions
The referee must be an existing Herdwatch user.
The new member must download the Herdwatch App and sync their herd from AgFood for the first time between August 27th and September 10th 2019.
Once signed up, the new member just needs to tell us who referred them using our Contact Form before the 10th September 2019.
We will then send you and your friend a single day pass for the National Ploughing Championships.
Still not sure?
Talk to our team today to learn more about how you can refer a friend and be rewarded.
New to Herdwatch? Why not get started for FREE
The Free-Plan allows farmers to:
Download their Herd from APHIS (NI), BCMS (UK) or Agfood (IRL)

Record 5 calf registrations

Record their medicine purchases

Record Heat detection and general tasks