Kingswood joins Herdwatch in a deal seen as a "perfect match" in the AgTech space
Herdwatch, the market-leading farm software company in Ireland and the UK, have announced the acquisition of Kingswood Computing Ltd. Herdwatch expects the acquisition to grow its customer base, meaning more than a third of Irish dairy farms will now be on its platform, further strengthening its position as the number one farm software in Ireland and the UK.
Founded over 35 years ago by Gerry and Nora Lynskey, Kingswood supply herd management and accounting software to farmers and agribusinesses, as well as software solutions for veterinary practices and farm contractors across Ireland and the UK. Kingswood were the first and best-known Irish farm software provider, attracting a client base of over 5,000 farmers, with a particular focus on dairy operations and a wide range of solutions such as Kingswood Herd, VetLink, farm accounts, as well as Kingswood Mobile (HerdHub), a field app and a billing app for farm contractors.

Herdwatch was co-founded by Fabien Peyaud and FRS Network (Farm Relief Services) in 2012 and provide software to over 20,000 farms, including dairy, beef and suckler farmers as well as sheep farmers with their Flockwatch solution, which is now available in over 170 countries, with plans to launch their cattle solution globally by the end of the year.

With this latest acquisition, Tipperary-based Herdwatch continues its rapid expansion just two weeks after the company announced its acquisition of Farmplan's livestock software customers in the UK and 6 months after securing a multi-million investment led by Renatus Capital Partners, backed by the Irish Strategic Investment Fund (ISIF). The company say they are planning further announcements in the coming months.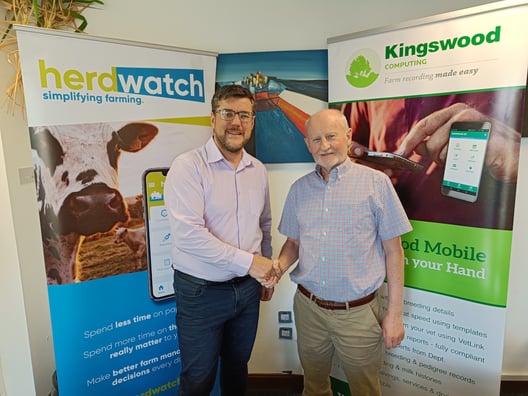 Above: Herdwatch CEO and Co-founder Fabien Peyaud and Gerry Lynskey, Kingswood Founder


The deal will see Kingswood employees join Herdwatch's growing team of more than 60 people. There are no changes for Kingswood customers in Ireland and the UK, who will be able to continue using their existing software products and get full support from the Kingswood team. New developments will incorporate the best features of both software platforms over time, giving Kingswood customers access to the continuous innovations Herdwatch is known for, including its advanced cloud technology and the "Buy & Sell" platform, which allows their members to advertise and buy cattle online commission-free. Herdwatch members will themselves benefit from advanced technology and integrations developed by Kingswood such as links with milking parlours, marts, co-ops, factories, vets and more.

Gerry Lynskey, Kingswood founder, said "I wanted to put Kingswood in the best possible position for future success and growth while at the same time promising exceptional customer experience as well as a vibrant work environment, which is why Herdwatch is such a great fit." says Lynskey. "I'm so proud of what we've accomplished and will be watching closely and celebrating future success with pride. Really this is the perfect match for our businesses and our customers and I'm really excited to see how the larger business evolves and thrives, delivering even better service for farmers in Ireland and far beyond," he said.

Noel Kelly, MD of Creva international, helped facilitate the arrangement, having worked for Kingswood early in his career. "I'm thrilled to have played a small part in bringing these two Irish Agri-Titans together. I know this will be a mighty partnership guaranteed to support farmers." Said Kelly.

Fabien Peyaud, CEO and co-founder of Herdwatch said: "Gerry has been a pioneer in the agtech field, and his innovative leadership resulted in some of the earliest tech solutions for farmers. For this reason, we are proud that Herdwatch is the new home for Kingswood's great products, dedicated team, and thousands of loyal customers, and look forward to taking them and their legacy to the next level within the Herdwatch platform."
The Herdwatch app for cattle and sheep can be downloaded in the App Store or at www.herdwatch.com.
If you are an existing Kingswood customer and have any questions, you can contact the Kingswood team on +353 1 459 6677 (9am-5pm Mon-Fri) or email info@kingswood.ie. Kingswood have also prepared a webpage to help their customers understand more about this announcement which can be accessed here.