Twenty five team members of Herdwatch, the leading Irish farm software company, have raised more than €10,000 for Ukraine following their successful climb of the 'Devil's Bit' mountain in Tipperary.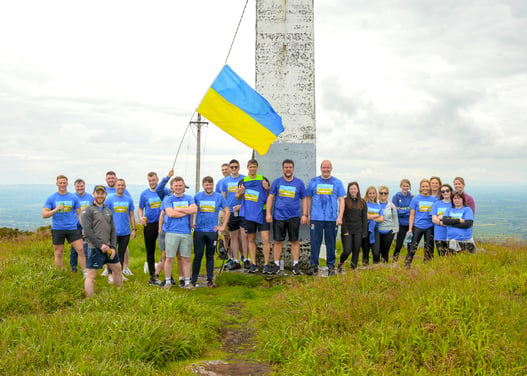 The Herdwatch Team at the top of the Devil's Bit Mountain in Co. Tipperary
Some members of the Herdwatch team are based in Ukraine and their Irish friends and colleagues wanted to raise funds in recognition of the difficulties they are experiencing at present.

The funds raised were donated to Chernobyl Children International who are actively supporting people in Ukraine. Adi Roche, founder and CEO of Chernobyl Children International, came to Roscrea on June 22nd for a symbolic presentation of the funds and said "I am personally very grateful to you and everyone at Herdwatch and FRS Network for your generosity during this dark time. Your donation is very timely and will have an immediate impact on Ukrainian families who are suffering"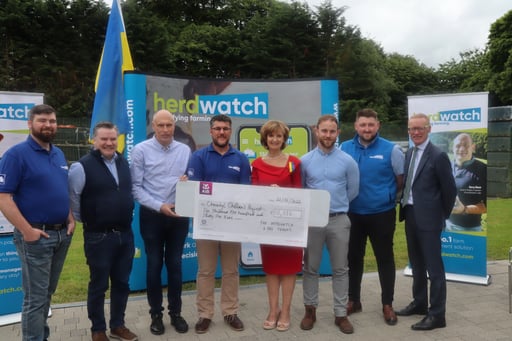 Adi Roche with some of the Herdwatch and FRS Team in Roscrea
On the same day, Adi Roche and the Herdwatch Team were joined by Roscrea local hero Henry Deane, along with 2 members of "Roscrea Chernobyl Lifeline", Andrew Walsh and John Hastings, who together with others worked tirelessly for almost 30 years helping those affected by the "first" Chernobyl disaster. The local organisation completed its mission with honour and handed over a cheque for €5,000 to Adi Roche - on top of the Herdwatch donation. Henry and his wife Marian famously hosted the leader of free Belarus, Sviatlana Tsikhanouskaya, for many summers in Roscrea. Sviatlana is now a respected world leader and influencer for peace and freedom, and recently visited Roscrea.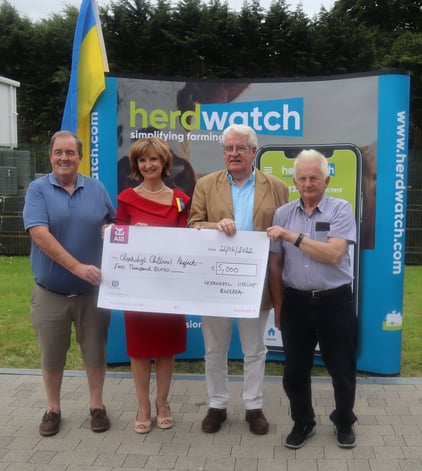 Andrew Walsh, Adi Roche, Henry Deane and John Hastings

Speaking following the climb, Herdwatch Founder and CEO, Fabien Peyaud said, "Since the beginning of the invasion in Ukraine, the entire Herdwatch team has been worried about the wellbeing of our colleagues who are based over there. They are experiencing an illegal war that is destroying lives and that is wreaking destruction across that beautiful country. Yet this is what our friends with are living with on a daily basis.

"The team was very keen to come together and find a way of showing some gesture of solidarity with those in Ukraine so we decided to organise this fundraiser. All 25 of us made it to the top of the Devils Bit and we were able to proudly wave the Ukrainian flag at the summit. We hope this small gesture shows our colleagues in Ukraine that they continue to be at the forefront of our thoughts.

"I am very grateful to the Herdwatch team and all the generous donors, including many farmers and FRS colleagues, who supported this initiative. We managed to raise over €10,000 for a very worthy cause. We hope we will be able to provide further support to our friends and colleagues in whatever way we can," Mr. Peyaud concluded.

Herdwatch, headquartered in Roscrea, Co. Tipperary is the number 1 livestock management software. They are part of FRS Network, the social enterprise co-operative. In March FRS Network donated a further €20,000 towards the victims of the Ukraine conflict via Irish Red Cross.