We are extending our services for free to 39,000 suckler farmers around the country, in response to the difficult market conditions being experienced by the Irish beef and suckler farming community. Under the new plan, all beef or suckler farmers with 10 cows or less can use the app without incurring any cost.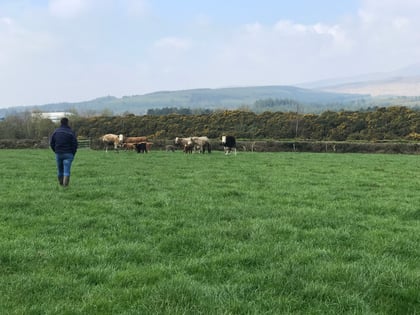 'Herdwatch to offer Free Service to 39,000 suckler farmers.'
This new plan will apply to over 53% of Ireland's 73,000 suckler farmers. They will now be able to use the simple app to register calves, record remedy and feed purchases and send weights for the BEEP scheme.
We've implemented these changes to help Irish suckler farmers in response to the rising costs, volatile prices and increased compliance requirements they are facing in the market. The threats posed to the suckler farming community by both Brexit and Mercosur were also factored into the decision.
Speaking about the new plan, Fabien Peyaud, CEO and Co-Founder of Herdwatch said,
"We are very conscious of how difficult the market conditions have become for Irish beef and suckler farmers in recent times. Not only have they the major threats of Brexit and Mercosur to contend with, they also have to worry about rising costs, extra administrative burdens and unpredictable prices.
At Herdwatch we see ourselves as part of the Irish farming community and we wanted to do something to help. We know that some farmers will struggle to justify investment in farm technology because of the current market conditions. For that reason, we are making these changes to our service. Farmers with 10 cows or less will now benefit for free from the ability to record and view farm information on the spot.
The Herdwatch app enables farmers to spend less time on paperwork so they can spend more time on things that really matter to them as well as staying on top of their farm business and make better decisions by seeing the information that matters, when it matters. They will also get access to our highly rated member support team to help them get started.
"According to data from the Department of Agriculture and Food, that means that more than half of the Irish suckler farming community will benefit, representing 39,000 farmers who can make use of the app without cost.
Join over 10,000 happy farmers saving time on crucial farm paperwork and managing their farms more efficiently for FREE.
It couldn't be easier for a farmer to get started on Herdwatch. It's simply a matter of downloading the app and putting in your herd number.
Herdwatch is fully compliant with Bord Bia and EU quality assurance standards and allows farmers to register calves and manage cattle movements on their phone. It is fully integrated with ICBF so farmers can see their breeding, milk records and EBI/Eurostar information on Herdwatch.