The 91st Limerick Show makes a welcome return on Sunday August 28th after a 3-year hiatus, with a strong Sustainability agenda and a brand-new Sustainability & Agtech Hub. Limerick's largest family & agricultural festival takes place at Limerick Racecourse on Sunday August 28th.
15,000 visitors, 1,000 competitors, 150 trade exhibitors and one Liam McCarthy cup will descend on Limerick Racecourse to experience a unique event which aims to bring the people of Limerick City, County and surrounding areas together.
A new addition to the show this year is The Sustainability & AgTech Hub, featuring top organisations active in this space, including Herdwatch, Terra Nutritech, Farmeye, Kerry Agribusiness and Vistamilk to name a few. As the world becomes more aware of the global sustainability challenge, agricultural and sustainability technology is playing a key role in creating a more sustainable environment and food production system. As well as a more sustainable business for farmers by creating new efficiencies and opportunities. At the Limerick Show we believe it is the perfect time to showcase all there is to offer in this vastly growing industry at Limerick's largest agricultural festival.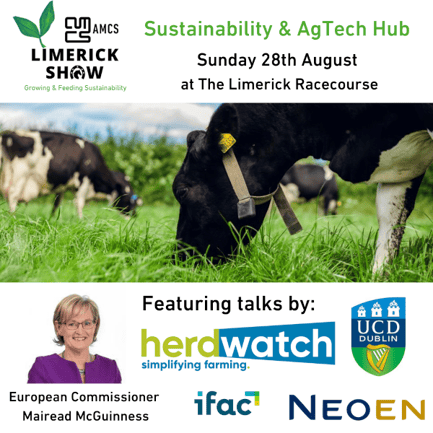 President of the Limerick Show, Leo Walsh, is looking forward to welcoming people back to experience the new and improved show for 2022.
"We're delighted that Limerick Show is making a return this year after a short break. Limerick Show has always been about showcasing the very best of Limerick and the surrounding areas and we hope that this year, more than ever, people will come out and support the local farmers, producers and exhibitors that will be on display."

Mr. Walsh has also expressed his thanks to local company AMCS who have been named as the lead sponsor of this year's Limerick Show.
"We're thrilled to have AMCS on board as our lead sponsors for 2022. Having a connection with a strong Limerick-based company was important for us and AMCS is a great example of a Limerick success story. Limerick Show has been a huge part of the Limerick social calendar since the first show took place in 1929. This tradition lives on today and we're delighted that AMCS is supporting us and helping keep the tradition alive."

Another welcome new addition to the show this year is the Careers Village. Whether you are looking to kick start your career or well experienced and seeking a new challenge, the Careers Village at the Limerick Show enables you to introduce yourself and chat with some of the biggest employers in the world, who are located here in Limerick.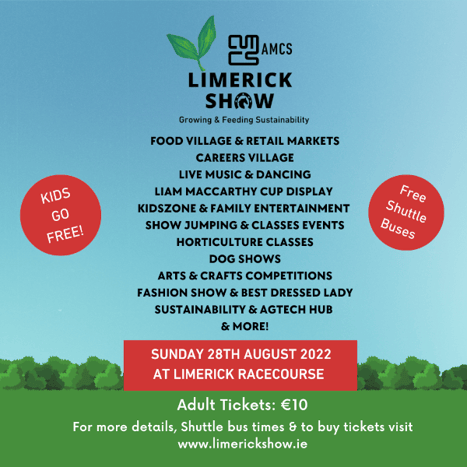 Some of the finest livestock in the country of all breeds will also be on show.

Limerick Show is renowned for showcasing the best of Irish horse breeding. This year is no exception, as one of the special features is a Festival of Irish Breeding presented by the Traditional Irish Horse Association. This incorporates the famous Limerick Lady and Matron Championships. The TIHA Hunter Equitation class makes a return this year. This is aimed at encouraging a higher standard of production of traditionally-bred horses aged five and upwards.

In addition to the diverse agricultural programme, there are lots of new family-friendly additions to the show- absolutely free! The infamous Kids Zone makes a welcome return with free kids entertainment including kids amusements, face painting, kids disco, pony rides and an animal farm. If the little ones get tired, they can hop on the kiddie's train and catch a lift around the show grounds. Children under 16 get free entry to the show so there really is no excuse to leave the kids at home!

The Liam MacCarthy Cup will be on display on the day, take the opportunity to celebrate Limerick's great victory by lifting the cup and capturing a snap.

Enjoy Live Music and dancing at the Limerick Show from 2pm by renowned artists:
Shaun O'Dowd, The Conquerors, Louise Morrissey, Red Hurley and Keith & Lorraine McDonald. The M.C will be Limerick's Live 95FM presenter, J.P. Dillon.

Celia Holmen Lee is hosting a must-see Fashion Show at 3pm! See the latest fashion trends and styles from local boutiques. Ms. Holman Lee will also be judging the Best Dressed Lady competition on the day.

The family Dog Show is always a star attraction on the day starting at 1pm. Visitors can shop to their hearts content at the indoor and outdoor retail village, artisan food stalls, farm machinery and more. Other attractions include Show Jumping, Sheep, Craft, Art, Photography, Baking classes and Horticulture exhibits.

Limerick Show are delighted to provide a complimentary bus ride from the city to and from the showgrounds, departing from the Gaelic Grounds at 10:30am/12:30pm, The Parkway Shopping Centre at 11:00am/01:00pm & The Crescent Shopping Centre at 11:30am/01:30pm. The Return Journey will commence from 05:00pm.

The Show will be officially opened at 12pm on Sunday August 28th by European Commissioner Mairead McGuinness.