In the world of agriculture, efficient livestock trading is crucial for farmers to maximize their profits and optimize their herd management and selling process. Herdwatch has developed a Buying and Selling platform to allow ALL farmers across Ireland and the UK to create FREE Ads and browse across various types of cattle. Continue reading to see WHO can use Buy and Sell and all the essential information you need to know about Buy & Sell by Herdwatch, its features, benefits, and how it can revolutionize your farming business.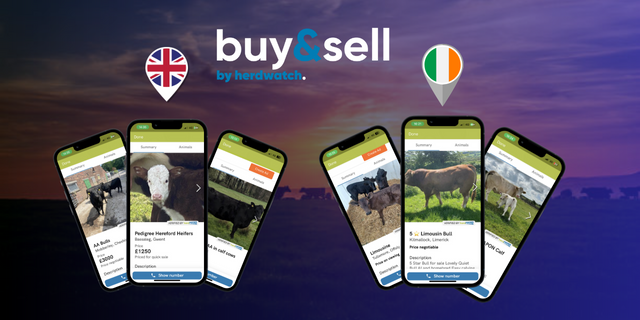 What is Buy & Sell by Herdwatch?
ZERO commission

ZERO listing fees

Deal direct with buyers/sellers
Buy & Sell by Herdwatch is digital marketplace designed specifically for livestock trading. It is located online by searching Buy & Sell by Herdwatch and within the Herdwatch App which can be downloaded for FREE.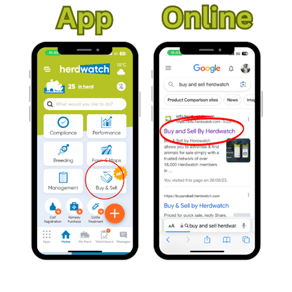 Anyone can create a Free account on the Herdwatch App which can access the Buy & Sell platform and view live listings near you.
How does Buy & Sell work?
Buy & Sell provides farmers from Ireland and the UK with a platform to buy and sell livestock directly from their smartphones or computers. It connects verified buyers and sellers, allowing them to trade animals more efficiently and effectively. The platform is easy to use, intuitive, and enables farmers to expand their network beyond their local area. Anyone can view listings on our website and anyone with a Herdwatch account (Paid or FREE) can view contact numbers for sellers and create multiple FREE ads.
Features and Benefits of Buy & Sell:
User-Friendly: Buy & Sell has a simple and intuitive layout, making it easy for farmers to navigate and use the platform with minimal training or technical knowledge. Both in the FREE App and online, Farmers can search Live ads and create multiple ads for Free.
Search and Filter Options: Users can search for specific animals based on their criteria such as breed, age, location, and price range. This feature helps farmers find the right livestock that meets their requirements.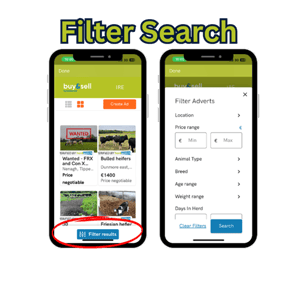 Verified Users: As all Herdwatch users are verified farmers, both buyers and sellers can deal knowing the cattle which are advertised are verified animals with up-to-date information.
How to Get Started with Buy & Sell:
Download the FREE Herdwatch app: To access Buy & Sell, you need to download the Herdwatch app from the App Store or Google Play Store or else view the listings page online by searching Buy & Sell by Herdwatch.
Set up an Account: Create a FREE account within the Herdwatch app and complete the registration process.
Post Listings: If you have livestock to sell, you can create your own listings for FREE with detailed information, including photos, videos descriptions, and pricing.


Looking for Cattle?
We also offer a service within this platform to advertise WANTED ADS for you!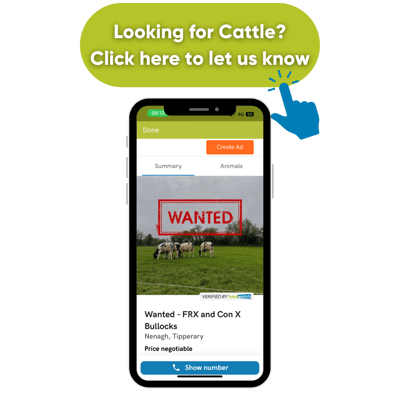 Just get in contact with us by CLICKING HERE and we will get a wanted Ad up on the Buy & Sell platform for you TODAY!
Tips for Successful Trading on Buy & Sell: