Version 6.5 - August 2021
★ New - Farm Mapping - a simple way to create a map of your farm using satellite imagery.
★ New - Animal profile page design revamp.
★ New fields on an animals profile such as Breed percentage, Last serve date, Last calving date, Last dry off date, Days in herd and many more.
★ New Reports - Cows to Dry/Dried and Expected Calving Dates
★ Freezebrand field added to the per cow milk recordings table.
★ More Filters added to My Herd
★ Add a photo functionality added to Job/Note, Feed Purchases , Remedy Purchases and Cattle Treatments
Version 6.4 - July 2021
★ Cattle Price Calculator
★ Breeding Insights on Watchboard
★ Castration Recording
★ Ability to share animal profile + Herd Average Milk recordings
★ Remedy Stock Report / Paddock Reports
★ Pedigree Name and Breed % breakdown on per cow milk recordings table (ROI)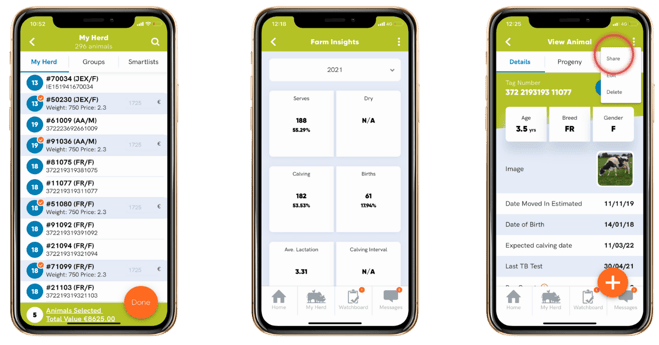 Version 6.3 - June 2021

★ Performance section added to the Homescreen
★ Milk recordings section added to Performance where you can see milk recording results at a herd average level and at an individual cow level.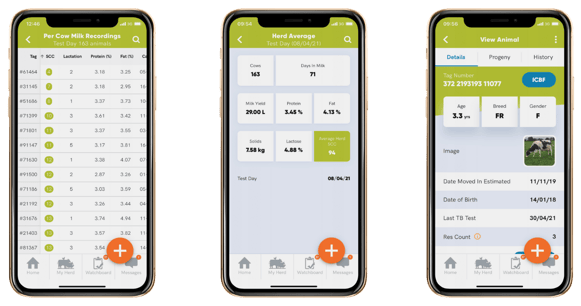 ★ New Smartlists - Calved Cows, Dry Cows and Cullwatch
★ Animals in Groups now ordered by sort by option selected in settings
★ Verified ad feature added to NI region.
★ NI + UK Dry off Management optimisations in Watchboard & Smartlists
★ Pregnancy Scanning can enter days in calf straight after selecting the animal scanned.
Version 6.1.67 - April 2021
Performance Updates Including:
★ New filter design for all lists
★ New pop up design applied across the board
★ Weights/Scans/Bulk edit recording enhanced
Version 6.1.66 - January 2021
★ Ireland: Get 'Verified by Herdwatch' on DoneDeal.ie and share animal data with potential buyers to increase their value (Complete Plan)
★ Dry off Management optimizations in Watchboard & Smartlists
★ Register multiple calves with Batch calf registration (Complete Plan)

Herdwatch has teamed up with DoneDeal.ie to help more of it's members harness the power of data when buying or selling animals.
'Verified by Herdwatch' is a new decision support tool that lets farmers share verified animal information including age, breeding, movements, latest weights & more with other farmers on the DoneDeal platform.
Sharing this key animal information with other farmers will help increase the value of animals by using data to prove their history and help buyers simplify their purchasing decision, without having to ask for more information or wasting diesel going to see animals without the facts knowing what they are really going to see.
How does it work ?
It couldn't be easier:
Select the animals you want to sell in Herdwatch & Generate a Verified Code by selecting the 'Verified Ad'.
2. Using the 'Copy Code' button and then paste it into DoneDeal when creating your DoneDeal ad.
3. The animal information will appear on your DoneDeal ad, it is that easy...