While few farmers eagerly anticipate their Red Tractor inspection, and many express frustration over the bureaucratic aspects, especially when it's one of several audits they must undergo each year to meet various standards, it's essential that the process is successful. Over 60,000 Red Tractor inspections occur throughout the supply chain annually causing panic across the UK. However, with the right tools and adequate preparation, your next Red Tractor audit can become a stress-free undertaking. Here are some valuable tips from Herdwatch to help you ensure a smooth and straightforward Red Tractor Inspection.
1. Ensure up to date Herd Register & Movement Records:
Ensure your herd register is up to date with all births, deaths & movements. During an inspection, it is imperative to have all movement permits and knackery receipts readily available for inspection upon request by the inspector. Additionally, many farmers find it beneficial to keep their recent cattle purchase and sale documents from markets and factories within easy reach for quick reference.
Furthermore, remember to have all your cattle cards accessible on the audit day. By maintaining organized and easily accessible records, you can streamline the auditing process and ensure a smooth compliance review.
Register calves & complete animal movements in Herdwatch:
You can keep your herd register up to date at all times with Herdwatch with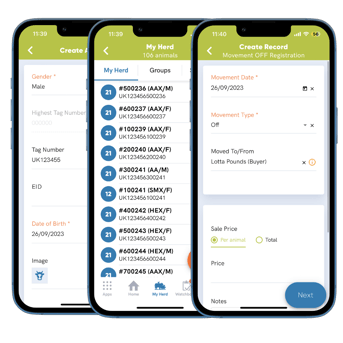 simple calf registration & animal movements. Herdwatch is designed to make calf registration simple. Simply fill in the required information, it even displays the last tag registered. Herdwatch is a truly mobile app which means you can register calves as you tag them. Herdwatch will warn you if you are about to register a calf over 27 days cutting down on calf registration mistakes and ensuring you stay compliant.
If selling animals from your herd simply input the buyers holding number, select the animals been sold and apply for the movement cert its that easy! If buying animals in complete your movement certs in Herdwatch by simply entering the cert number. You can also track all your livestock sales and purchases by scanning in your mart, fatcory & knackery dockets. The app will automatically assign the key details from the dockets to the animals giving you a comprehensive view of your animals history right through to when it leaves your farm.
2. Maintaining Comprehensive Medicine Records
Maintaining accurate and up-to-date records of animal remedy purchases and usage is essential. Inadequate record-keeping concerning animal remedies and medicines can be the achillies heal of many farmers when it comes to their Red Tractor inspection. Therefore, it is highly recommended that farmers maintain comprehensive records of all remedy and medical purchases, as well as their usage, in preparation for inspections.
These records should include the following information:
Date of purchase
Medicine name
Quantity purchased
Name and address of the supplier
Furthermore, farmers should also diligently document the following details:
Date of administration
Name of the medicine
Quantity administered
Identification of the treated animal
Date marking the end of the withdrawal period
Name of the person administering the medicine/remedy or the name of the prescribing veterinarian.
Record your remedy purchases through Herdwatch:
You can track all of your remedy purchases & usage at the click of a button using Herdwatch. With Herdwatch you can scan your medicines as they arrive on farm, they will then be placed in your virtual medicine cabinet in the app. If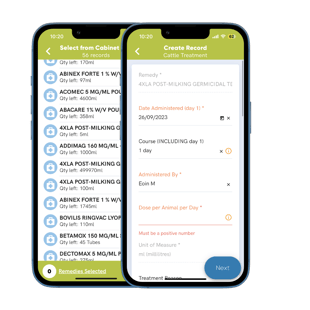 you are dosing an animal you can select the medicine from your cabinet, Herdwatch will then prompt you to enter all the data you need to be Red Tractor compliant ensuring you don't forget to record any key data. As you record animal treatments through the app Herdwatch will also keep track of how much remedy you have used so you know what's in your remedy cabinet at all times. As Herdwatch works offline all your remedy purchases and usages can be recorded on the spot as it happens.
3. Record all Feed Purchases as they arrive on farm
Accurate record-keeping of feed purchases is also crucial, with the requirement that all receipts and delivery dockets must be maintained on file. To ensure compliance with Red Tractor standards, it is necessary to record specific key data for feed purchases, which includes:
Date of Purchase
Description of Feed
Quantity Purchased
Units Purchased (e.g., kilograms, tons)
Supplier Information
Recording your feed purchases through Herdwatch:
You can also record all your feed purchases through Herdwatch. The app will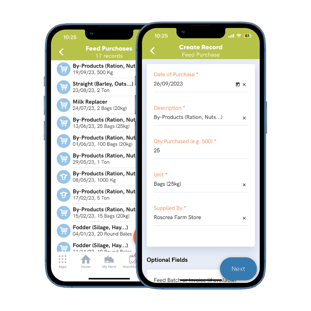 guide you through the process, ensuring that you enter all the necessary data to meet Red Tractors compliance requirements. Additionally, Herdwatch offers a convenient feature that allows you to attach invoices, delivery dockets, and related documents to your feed purchase records. This way, you can maintain a complete and easily accessible digital record, even if you misplace the physical copies.
4. Make use of Herdwatchs Pre-Audit Check
All members on the Herdwatch Complete Plan have access to a Pre-Audit check with one of our trained advisors. This entails us completing the following:
We will remind you when your next planned inspection is due so you do not fall out of certification.

We go through everything you need to prepare, providing recommendations and advice.

We will help your prepare your reports and make sure you're ready for your inspection.
Pre-Audit Checks are important to ensure that you are well prepared for your paperwork and farmyard audit. We'll send you a notification up to two months before your next planned inspection to check through your records and farmyard for any improvements that could be made before the inspection. Your Herdwatch advisor will highlight relevant items and documents so you can make sure they are up to date and formatted properly.
5. Ensure you have all your reports at hand on the day of the audit
Finally ensure you have all your reports at hand on the day of the audit. If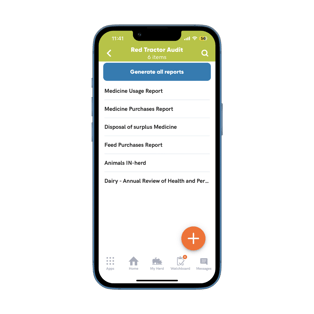 you are recording all your key information as you go through Herdwatch then the night before the Red Tractor Inspection will no longer be filled with panic. You can simply click into the reports section of the app and generate all reports required for the audit at the click of a button, these reports will then be sent directly to your email, all that is required of you is to print them off and hand them to your auditor. Simple as that!
Make your next Red Tractor Inspection a simpler task with Herdwatch
Join over 20,000 farms making their Red Tractor inspection a simpler task and improve your farms performance. You can download the FREE Herdwatch app today and explore all of the various benefits & features the app has to offer.