Pat Feehily is a Suckler and Sheep farmer from Ballydangan, Co. Roscommon. He keeps a herd of pedigree and commercial Limousines. During the winter months Pat also buys in 200 fattening lambs.
He finds that the lambs are great for cleaning up pastures and keeping weeds under control. Pat, like a lot of other farmers, would not consider himself to be great with technology. However, he is always trying to improve his farm management.
As Pat says himself:
"You need to be on top of your game, to get the rewards from farming!"
Two years ago, he heard about Herdwatch, an app that could help to do just that, and eliminate his farm compliance paperwork. He decided to sign-up and move on with his farm management.
How to stay on top of farm records.
Keeping on top of medicine and dosing records can be very difficult for a mixed farm.
When Pat is dosing a group of cattle or sheep, he just puts what he did into Herdwatch there and then.
"As soon as I buy an animal remedy, I just put it into Herdwatch on the phone. It's done and dusted then."
Once it's in Herdwatch, he is compliant.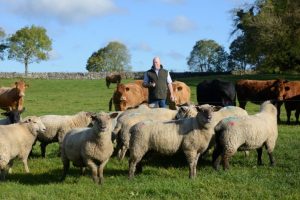 Pat Feehily using the Herdwatch app on his mixed cattle and sheep farm.
Read More about how Herdwatch can help with Bord Bia Paperwork
Herd Information at Your Fingertips
Then Pat told us how it's often the simple things with Herdwatch that help him the most.
"It's great when I'm changing cows, if I'm wondering what calf belongs to what cow, it's all there in my phone. If I'm thinking of selling a group of lambs, I can just check the phone to make sure they are not in withdrawal, I know there and then".
Farm Management in One Place
Pat also uses Herdwatch to register his calves, record his breeding information, spraying and also for weight recording.
"It's like a supermarket! One app does it all, there is no more recording in a load of different books."
And knowing that he is compliant is so important to Pat.
"You don't feel a cross compliance inspection or Quality Assurance audit creeping up on you. The fact that all the information can be retrieved in seconds, and all I need to do is print off a few reports at audit time, takes all the stress of the inspection away."
Learn more about Herdwatch for Suckler Farmers
You can try Herdwatch completely free. No payment details required!