It's a fact: Missed heats have a negative impact on your farm output. With a cost of around €/£ 250 per missed heat, per cow, losses can quickly add up over the years.
Keeping track of breeding information can be difficult when you have cows coming at you thick and fast. Knowing which cows have been served, which are due to come into heat, and which haven't even cycled yet requires detailed records and discipline.
The Herdwatch app makes managing your breeding as simple and stress free as possible. You see exactly what is going on with your cows. It allows you to get ahead of any potential issues like non-cycling cows while also sending you a push notification about any cows that are due to repeat.
You can also record recent events, and call up historic information about your animals, so you always know which cows might have had issues in the past. This allows you to make informed business decisions.
How does the Breeding module in Herdwatch work?
It enables you to record all your breeding information, including:
Recording Serves -Record all serves as they happen even without internet connection. Easily select the serve date, the bull and cow and its done. AI technician serves will automatically be recorded in ICBF. (*Irish Members Only)
Heat Observation-record possible Heats of your animals. You can set a 21-day reminder to tell you what cows to watch out for.
Quickly input Scan Results-When scanning cows it's simply a matter of selecting the cow and entering the number of weeks she is in calf.
Non-Cycling cows-Herdwatch will inform you of cows not coming back in heat after calving provided there is a calving date.
Approved by ICBF- Your inseminations and scan results will automatically be sent to ICBF which means you will get the benefit of better reporting from ICBF.

(*Irish Members Only)
Bull Selection-Easily select your stock bulls or create the AI bulls you use on your farm.
The Watchboard: It's your farm whiteboard in your pocket
If a Cow appears on either of the Watchboard lists:
Heats due today

Watch for Repeat

Cows Calved

Due to calf

Due next 7 days
Then Herdwatch will send you a push notification to check that cow so you will never miss a cow again.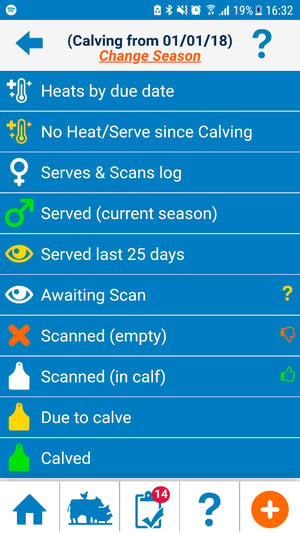 The Breeding Module: All your breeding information at your fingertips
Heats By Due Date: The will show you what cows are expected to be in heat next.
No Heat/Serve since calving: This will show you what cows have not been seen in heat or been served since they calved.
Serves & Scans Log: This is a complete list of the breeding records you created this breeding season.
Served last 25 days:
This shows you what cows have been served in the last 25 days and
The number of days they are served
The date they were served
Who they were served to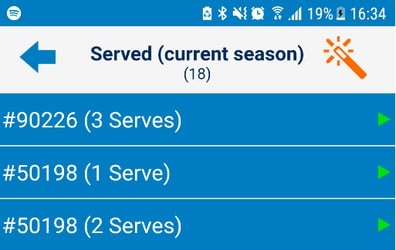 Served
This is a list of cows that have been served this Breeding season
It displays all the cows that were served and how many serves each cow has received.

The beauty of using the app is that any information you record will instantly go to ICBF for you. This feeds into your EBI or Eurostar rating and eliminates any double recordings.(*Irish Members Only)

Try it Yourself for FREE

Herdwatch is fully compliant with Bord Bia/Red Tractor and EU quality/Compliance assurance standards and allows farmers to register calves and manage cattle movements on their phone. It is fully integrated with ICBF so farmers can see their breeding, milk records and EBI/Eurostar information on Herdwatch.

Join over 10,000 farmers saving time on crucial farm paperwork and managing their farms more efficiently for FREE.
The Free-Plan allows farmers to:
Download their Herd from APHIS (NI), BCMS (UK) or Agfood (IRL)

Record 5 calf registrations

Record their medicine purchases

Record Heat detection and general tasks