Happy 4th Birthday Herdwatch!
4 years ago, the first version of the Herdwatch app saw the light of day. And it has taken the farming world by storm.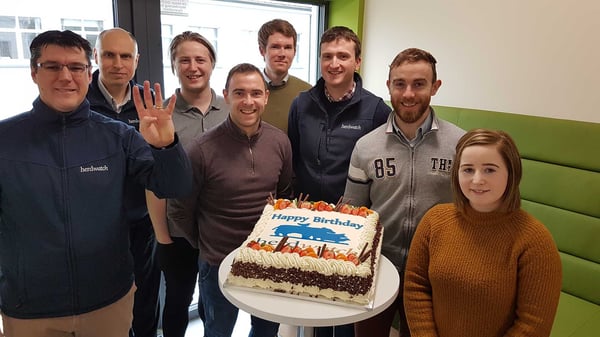 The Herdwatch team about to enjoy some much deserved cake!
Time flies as they say. Today, Herdwatch is the definite market leader in the mobile farming software app space, with thousands of subscribers across Ireland and the UK.
This is the perfect occasion, to take a look at some impressive numbers:
- There are currently 7000 active herds with over 1,575,882 animals being managed within Herdwatch.
- So far 383,680 calves have been registered via the app.
- Over 3,032,485 treatments have been recorded.
- The average time we save all our farmers per year is around 1,055,600 hours!
2018 will be an exciting year for us, our fans and our fans to be. We have been listening to your feedback, analysed, innovated and improved, and something big is on the horizon. Watch this space!
To celebrate our birthday, we are offering new subcribers 4 months extra subscription time for free. That's 16 months of simple, efficient and hassle free farm management.
All you have to do is sign up via the link below, or get in touch with our sales department.
Herdwatch Special Birthday Offer
Ireland: 0505-34400
UK: 020 3773 2763