Do you love being active on social media and are you passionate about all things digital and farming?
Job Title: Content Marketing Executive
Location: Roscrea, Co. Tipperary
Type: Full time, Permanent
Salary: The salary associated to this position will be in line with the experience of the successful candidate. This appointment will provide genuine career opportunities as the business grows.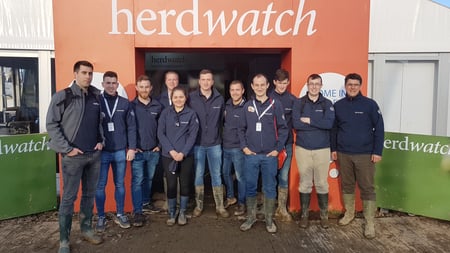 Herdwatch team at the NPA Ploughing Championships
Overview:
Do you love blogging, being active on social media and generally all things digital marketing?
Are you passionate about communicating with others?
Do you want to work with a great team in a leading Irish tech company? If you answered yes to all of the above, then you could be the person we're looking for!
Herdwatch is the market-leading farm management app & platform in Ireland and the UK with over 8,500 users. Our multi award-winning platform is backed by a large organisation, and leading the field in agri-technology. As a Content Marketing Executive, you will be responsible for creating and delivering high value and relevant content to farmers in Ireland and the UK.
You will be responsible for distributing that content online and measuring the efficacy of the campaigns using all the tools at your disposal. You will also be responsible for the Herdwatch "online voice", this will involve interacting with farmers on social media such as Facebook, Twitter, YouTube, Instagram, Snapchat and all other relevant media.
The position will be based in the historic town of Roscrea, Co. Tipperary. The ideal candidate will possess a farming background, excellent communication and technical knowledge, and be an enthusiastic self-starter, with the ambition and commitment to help build a high-performing online marketing strategy. You will be expected to work on your own initiative to tight deadlines and deliver campaigns to high standards. This appointment is a key role for the future of the business and will provide genuine career opportunities as the business grows.
Requirements:
• Must possess a farming background or have experience dealing with farmers
• Must enjoy speaking and meeting with farmers, with an ability to create high value content that is attractive to farmers
• Be a strong and confident communicator and team player, with an ability to plan, execute and report on the results of the generated content and campaigns
• Must have willingness to learn new skills where required (training will be provided where needed)
• Must have an extensive knowledge of using social media such Twitter, Facebook and Youtube • A good understanding of SEO
• Must be willing to travel abroad and in Ireland
For more information or to chat about this opportunity contact James: james@herdwatch.ie