We know that getting all your farm records in one place is very important to you. Syncing your ICBF records have been a long requested feature by our 10,000 members.
We are happy to announce that this now possible! The Herdwatch app has been available to Irish farmers for over 5 years and in that time we have sent hundreds of thousand's of records to ICBF for farmers.
Now, for the first time, farmers can send their ICBF information to Herdwatch.
What information can Herdwatch get from my ICBF account?

The Herdwatch app can bring in all your day-to-day information from ICBF. This includes:
The parentage of all your animals.
The historic breeding information of your animals (progeny and serves)
AI technician services (Any AI services that are recorded by a handheld device)
Freeze brands
Any weight records on ICBF
Due to calve list
Pedigree names
And there is more to follow.
How does the Herdwatch-ICBF sync work?
It's very simple! You just enter your ICBF log-in details into the Herdwatch app, give Herdwatch permission to access your ICBF data, and the information will flow down that night. It will then automatically update every few days.
What happens if I do not have an ICBF Herdplus account?
No Herdplus account? No problem! All you need is an ICBF log-in, if you were previously an ICBF herdplus member and still have the log-in details, then this will give you access to the information in Herdwatch. Alternatively, you can get log-in details for free by clicking here.
What are the benefits of linking my ICBF information with Herdwatch?
Animal history in the palm of your hand
Herdwatch will download the parentage of the cattle in your herd from ICBF. You will see any past breeding information or progeny which will give you a complete herd history in your pocket.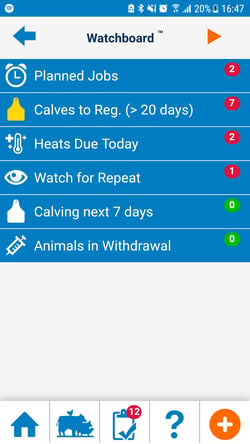 Next generation breeding
management
Linking with your AI technician services with Herdwatch gives you complete control over your breeding cycle. The app automatically downloads your services from ICBF which means:
You will get a push notification when a cow is due to repeat
You will see any cows that not yet cycled since calving
You can see when cows are due to calve
Weight records
Herdwatch will bring in any previous weight records from ICBF. This will include weights recorded in marts that send the data to ICBF. This means you will have better visibility on how your animals are performing.
Freeze brands
Herdwatch will automatically download all your freeze-brand information from ICBF.
Pedigree information
Herdwatch will download your pedigree names, as well as their parentage and progeny.This will allow you to make better breeding and business decisions than ever before.
Getting started on Herdwatch
Herdwatch is fully compliant with Bord Bia and EU quality assurance standards and allows farmers to register calves and manage cattle movements on their phone. It is fully integrated with ICBF so farmers can see their breeding, milk records and EBI/Eurostar information on Herdwatch.
You too can join Brian and over 10,000 happy farmers saving time on crucial farm paperwork and managing their farms more efficiently for FREE.